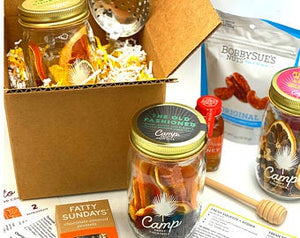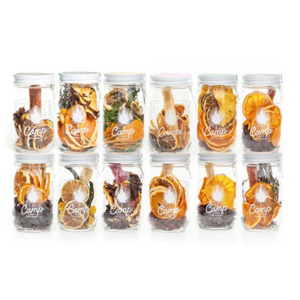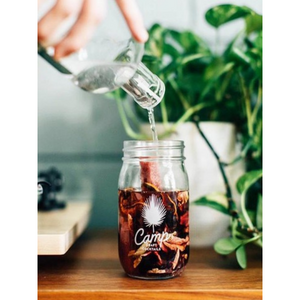 UY A SUBSCRIPTION TO RECEIVE ONE BEVERAGE INFUSION KIT AND TREATS EACH MONTH FOR 3 MONTHS! 
When you join this quarterly subscription club, you'll receive one delicious, easy-to-make craft beverage infusion kit every 30-days for 3 months. We'll select a different / seasonal flavor to send you by the 15th of each month... along with special treats in each box. Domestic shipping is included in the price! Perfect as a gift that keeps on giving for a holiday, birthday, anniversary, wedding, retirement, promotion, corporate event, graduation, new home owner, or as a treat for yourself. ** Photos are representative of the shipments that will go out. Items will vary and may not be the exact items shown in the photos. 
3 Camp Craft Infusion Kits | 3 Beverage Essentials | 12 Inspirational Drink Recipes | 12 Appetizer Recipes | 3 Yummy Treats | Free UPS Shipping of the 2nd and 3rd Boxes | Sharing Sunshine Gift Packaging
EACH MONTHLY SHIPMENT INCLUDES: 
ONE (1) BEVERAGE INFUSION KIT | Camp Craft
We'll surprise you with the flavor each month!  Each 16-ounce glass jar holds the beautifully-arranged fixings needed to make 8 - 16 servings of a delicious beverage. Refrigerate for 3 days while the kit infuses. Sip as is or add a splash of soda, juice, and/or tonic. Packed with dehydrated fruits, vegetables, herbs, and citrus-infused sugars and spices, they're as tasty as they are attractive. Unopened jars have a shelf life of 2 years in the pantry and 30 days once infused.  
ONE (1) BEVERAGE ESSENTIAL
Think strainer, shaker, garnish skewers, or similar. Each month will vary!
FOUR (4) BEVERAGE RECIPES FOR INSPIRATION
FOUR (4) APPETIZER RECIPES TO GET THE PARTY STARTED

ONE (1) SWEET OR SALTY TREAT
FREE UPS SHIPPING OF THE 2ND AND 3RD BOXES

Some of the current spectacular flavors we'll be selecting from are: 
Aromatic Citrus | Berry Blend | Brunch Punch |  Cranberry Martini | Flo'Rita | Hibiscus Ginger Lemon | Lavender Lemonade | Old Fashioned | Sangria | Pineapple Jalapeno * SPICY
SUNSHINE PACKAGING 
Your monthly gift will be packaged in one of our sturdy mailer boxes. Filled with shred and packed with care, we will include a handwritten card that will be the first thing seen when the box is opened. We will not include any pricing information with the gift. 
SHIPPING 
Boxes will be processed and shipped Monday - Friday via UPS Ground Service. We trust our friends in brown and know they will take special care with your package. Your gift will go on a unique journey that could involve trains, planes, and automobiles before a safe delivery to you as soon as possible. We'll send you tracking information as soon as your package is shipped each month so you'll know exactly when it will arrive.