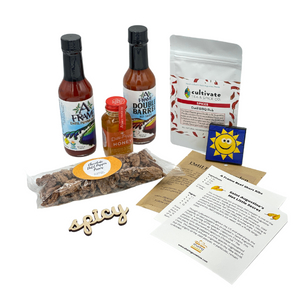 Give a box of goodies "datil" spice 'em up! They'll enjoy the sweet and spicy flavors of the renowned St. Augustine datil pepper with sauces, a BBQ rub, a dip, honey, and chocolate pecans… all handcrafted in the Old City of St. Augustine, Florida. Bonus: a signature artisan sunshine magnet. 
Datil Pepper Garden Dip | A Frame Datil Pepper Sauce | A Frame Double Barrel Hot Sauce | Datil BBQ Rub | Datil Honey | Chocolate Datil Pepper Pecans | Datil Pepper Information Card & Recipes | "Spicy" Wooden Expression | Sharing Sunshine Signature Artisan Magnet
WHAT'S INSIDE

DATIL PEPPER GARDEN DIP | Dips 'N Such
It's a hottie! This handcrafted spices and seasoning blend is a garden dip with a kick! Ingredients include minced onion, garlic powder, carrots, red and green bell peppers, and datil pepper dust from St. Augustine's Datil Pepper Dave's. This 1-ounce pouch of spicy dip mix pairs well with raw veggies, crackers, chips and pretzels. When mixing, we recommend using Hellman's Mayonnaise and Daisy Sour Cream. Greek yogurt can also be used as a healthier alternative.

A FRAME DATIL PEPPER SAUCE | A Frame Sauce Company
Add some spice to their life with this 5-ounce bottle of delicious datil pepper sauce. This is a sweet and spicy pepper sauce made with local St. Augustine datil peppers producing a wonderful concoction designed to ignite both food and taste buds. The perfect choice for everyday use on eggs, chicken, fish, pork... just about anything edible!

A FRAME DOUBLE BARREL HOT SAUCE | A Frame Sauce Company
Get double barreled on this spicy, cilantro and lime infused flavor wave. This companion sauce tastes great on everything. It's sugar free and loaded with datil pepper goodness.

DATIL BBQ RUB | Cultivate Tea & Spice Company
The datil pepper, grown locally in St. Augustine, is known for its unparalleled flavor and sweet, smoky heat. Great on the grill, but also versatile in the kitchen. Use on chicken, pork, beef, seafood, sides, fruit, snacks, and even as a beverage rim garnish. Datil BBQ rub will quickly become their new favorite "all-purpose" seasoning! The organic ingredients include chili powder, smoked paprika, white sugar, brown sugar, smoked salt, garlic powder, celery seed, mustard powder, black pepper, onion powder, datil pepper, and cumin.

DATIL HONEY | The Honey Truck
Produced by honey bees within St. Johns County, this 3-ounce jar of datil honey is infused with The Honey Truck's personally grown datil peppers. A wonderful addition to chicken, salmon, or even drizzled over roasted veggies.

CHOCOLATE DATIL PEPPER PECANS | St. Augustine Sugar & Shells
Wait for it! This 4-ounce serving of fresh pecan halves, roasted and coated in a delightful blend of all-natural ingredients: datil peppers, cocoa, vanilla, salt, and sugar is mind blowing! No one can eat just one! Crunchy, sweet, spicy, and delicious. Yum! One myth about the origin of the datil pepper is that they arrived from Minorca in St. Augustine in the late 18th century.

DATIL PEPPER INFORMATION CARD & RECIPES | Sharing Sunshine
Learn a bit about the datil pepper... plus 2 great recipes to get started.

WOODEN EXPRESSION - SPICY
Keep life "spicy" with this delightful wooden cutout.

SHARING SUNSHINE SIGNATURE ARTISAN MAGNET | Free Range Art
Brenda Flynn is one of our favorite artists! She creates paper mosaics using recycled magazine ads to create the look of handmade and hand-glazed tiles on deep canvas. They are UV lacquered to completely seal the work and eliminate the susceptibility to humidity or fading. This little sunshine magnet will bring joy every single day!     
SUNSHINE PACKAGING
Your gift will be packaged in our reusable 8" x 8" bright and adorable mailer box. Filled with shred and packed with care, we will include a handwritten card that will be the first thing seen when the box is opened. We will not include any pricing information with the gift. 
SHIPPING 
Boxes will be processed and shipped Monday - Friday via UPS Ground Service. We trust our friends in brown and know they will take special care with your package. Your gift will go on a unique journey that could involve trains, planes, and automobiles before a safe delivery to you as soon as possible. We'll send you tracking information as soon as your package is shipped so you'll know exactly when it will arrive.