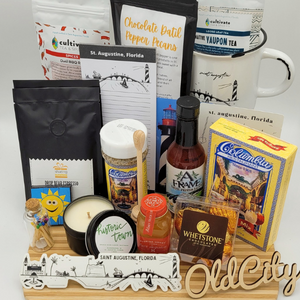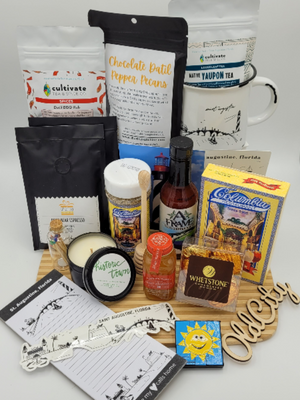 Give a gift that'll ignite taste buds and satisfy cravings! Featuring several St. Augustine favorites, this box will delight the pickiest palates and the trickiest tasters. It's a leisurely stroll down St. George Street and a perfect balance of spicy, sweet, crunchy, and smooth. 

St. Augustine Coffee Mug | Kookaburra Coffee | Cultivate Tea & Spice Tea | Columbia Restaurant Sangria Mix | Columbia Restaurant All Purpose Seasoning | A Frame Datil Pepper Sauce | Datil Pepper Garden Dip | Datil BBQ Rub | Chocolate Datil Pepper Pecans | Whetstone Chocolates | St. Augustine Honey & Dipper | Historic Town Soy Candle | Mini Corked Bottle of Matches | STA Magnetic Notepad | STA Iconic Landmarks Sticker |"Old City" Wooden Expression | STA Postcard | Sharing Sunshine Signature Artisan Magnet | Sharing Sunshine Gift Packaging
WHAT'S INSIDE

ST. AUGUSTINE COFFEE MUG 
Start the day off reminiscing about favorite places in the Old City with this vintage-style distressed mug featuring St. Augustine landmark art. 
DROP BEAR ESPRESSO | The Kookaburra Coffee               
Enjoy flavors of chocolate and citrus in this 3.5-ounce pouch of Drop Bear Espresso. 
NATIVE YAUPON TEA | Cultivate Tea & Spice Company
This 1-ounce pouch (about 18 servings) of handcrafted tea contains the only caffeinated tea native to North America. It also contains the mood elevating theobromine and is rich in antioxidants. Yaupon was the tea of the Native Americans, sipped by Spanish Conquistadors. Its fresh, mildly sweet, and lightly roasted flavor is delightful. 
SANGRIA MIX | Columbia Restaurant 
Spain's delightfully refreshing beverage. Make this much-loved St. Augustine favorite at home with a 4.2-ounce mix packet. 
ALL PURPOSE SEASONING | Columbia Restaurant                
Enjoy the century old Columbia Restaurant seasoning secret through this 7-ounce bottle of all-purpose seasoning. 
A FRAME DATIL PEPPER SAUCE | A Frame Sauce Company
Add some spice to life with this 5-ounce bottle of delicious datil pepper sauce. This sweet and spicy pepper sauce is made with St. Augustine, Florida datil peppers, producing a wonderful concoction designed to ignite both food and taste buds. Use as a dip, glaze, or marinade on just about anything edible! 
DATIL PEPPER GARDEN DIP | Dips n' Such
It's a hottie! This 1-ounce pouch of handcrafted spices and seasoning blend is a garden dip with a kick! Ingredients include minced onion, garlic powder, carrots, red and green bell peppers, and datil pepper dust.
DATIL BBQ RUB | Cultivate Tea & Spice Company
This unique rub will quickly become a new favorite "all-purpose" seasoning! The datil pepper, grown locally in St. Augustine, Florida, is known for its unparalleled flavor and sweet, smoky heat. Great on the grill, but also versatile in the kitchen. Use this 2-ounce packet on chicken, pork, beef, seafood, sides, fruit, snacks, and even as a beverage rim garnish. The organic ingredients include chili powder, smoked paprika, white sugar, brown sugar, smoked salt, garlic powder, celery seed, mustard powder, black pepper, onion powder, datil pepper, and cumin.
CHOCOLATE DATIL PECANS | St. Augustine Sugar & Shells
Wait for it! This 4-ounce serving of fresh pecan halves, roasted and coated in a delightful blend of all-natural ingredients (datil peppers, cocoa, vanilla, salt, and sugar) is mind blowing! Crunchy, sweet, spicy, and delicious.
GOURMET CHOCOLATE SHELLS | Whetstone Chocolates                  
This 6-pack of gourmet chocolate shells is crafted from the finest fresh ingredients. Enjoy the flavors of Milk Chocolate Valencia Orange and Milk Chocolate Toffee Crunch.
FLORIDA HONEY FROM ST. AUGUSTINE | The Honey Truck                 
Produced by honey bees within St. Johns County, this 3-ounce jar of Florida Honey from St. Augustine has notes of citrus and wildflower. Includes a honey dipper. 
HISTORIC TOWN CANDLE | Poured Goods
With notes of Spanish moss, amber, and driftwood, this 3-ounce mini-tin soy candle is hand-poured in St. Augustine. Included is a corked bottle filled with 15 color tipped matches with a striker pad on the bottom. Smells like a walk down St. George Street.

ST. AUGUSTINE MAGNETIC NOTEPAD
This 25-page notepad measures 8.5" x 3.5" and features iconic images and landmarks from both coastal and historic downtown St. Augustine areas. it comes with a handy magnet on the back for easy display.
ST. AUGUSTINE LANDMARK ART STICKER 
This 8" x 2" vinyl sticker features iconic images and landmarks from both coastal and historic downtown St. Augustine areas. 
WOODEN EXPRESSION - OLD CITY
Add a touch of the "OldCity" to life with this delightful wooden cutout.
ST. AUGUSTINE POSTCARD 
Send it on or keep this pretty postcard on a fridge or nightstand as a reminder of the beauty, history, and charm of the oldest city in the US.
SHARING SUNSHINE SIGNATURE ARTISAN MAGNET | Free Range Art
Brenda Flynn makes paper mosaics using recycled magazine ads to create the look of handmade and hand-glazed tiles on deep canvas. This little sunshine magnet will bring joy every day!      
SUNSHINE PACKAGING
Your gift will be packaged in our reusable 13" x 8" bright and adorable mailer box. Filled with shred and packed with care, we will include a handwritten card that will be the first thing seen when the box is opened. We will not include any pricing information with the gift. 
SHIPPING 
Boxes will be processed and shipped Monday - Friday via UPS Ground Service. We trust our friends in brown and know they will take special care with your package. Your gift will go on a unique journey that could involve trains, planes, and automobiles before a safe delivery to you as soon as possible. We'll send you tracking information as soon as your package is shipped so you'll know exactly when it will arrive.