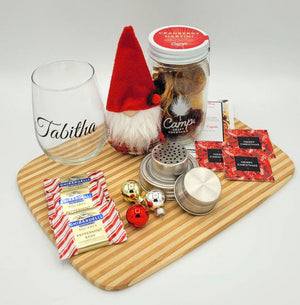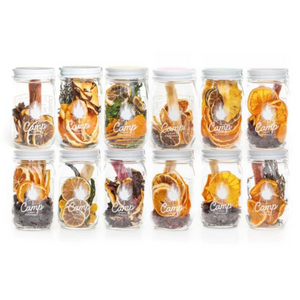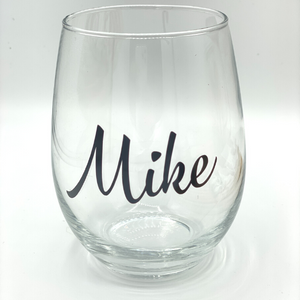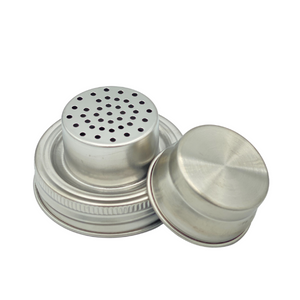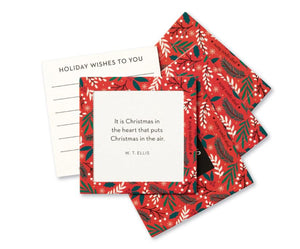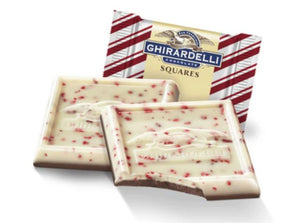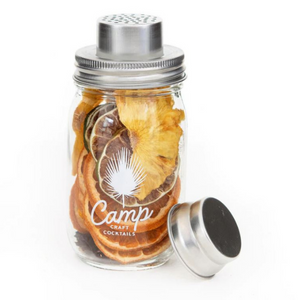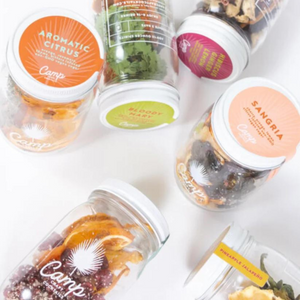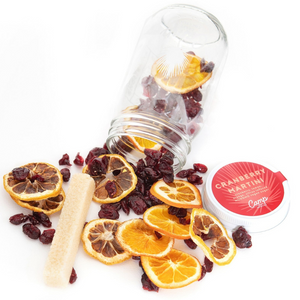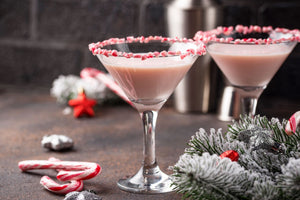 This personalized cocktail themed gift box is perfect for that special person in your life as a unique holiday present. Your choice of one Camp Craft Cocktails infusion kit along with a personalized wine glass, shaker/strainer lid, gourmet chocolates, and mini holiday decorations make this a unforgettable present that's sure to get you on Santa's "Nice" list. 
Camp Craft Cocktails Infusion Kit | Personalized Wine Glass | Stainless Steel Mason Jar Shaker Strainer Lid | Ghirardelli Peppermint Bark Squares | "Merry Christmas" Pop-Open Cards | Mini Holiday Ornaments | Sharing Sunshine Gift Packaging 
WHAT'S INSIDE
(1) COCKTAIL INFUSION KIT OF YOUR CHOICE | Camp Craft Cocktails
We have several unique flavors to create and enjoy delicious, easy-to-make craft cocktails. Choose your favorite flavor! Add 12-ounces of alcohol, refrigerate for 3 days, and shake well before serving. Each infusion makes about 8 pours. Jars can be infused a second time for a total of 16 pours. Most kits infuse well with vodka, rum, bourbon, gin, tequila, and whiskey. Some flavors also pair well with cognac (Sangria) or mezcal (Pineapple Jalapeno or Flo'Rita). Alcohol not included.  For a zero-proof recipe, add hot water! Sip as is or add a splash of soda, juice and/or tonic. Sealed in a 16-ounce glass container and packed with dehydrated fruits, vegetables, herbs, and citrus or bitters infused sugars and spices, unopened jars have a shelf life of up to 1 year. Once infused, enjoy within 30 days. Each kit includes inspirational cocktail recipes.
PERSONALIZED STEMLESS WINE GLASS
This 17-ounce stemless wine glass will be customized with a name or short saying to make this gift truly unique. Unless a special request is made for a specific color, the text will be in a black, semi-permanent, adhesive vinyl transfer in an attractive font. For best results, hand wash only. Not microwave or dishwasher safe. * Add personalization at check out. 
GHIRADELLI CHOCOLATE SQAURES
These 3 peppermint bark squares are made with rich chocolate layers and sprinkled with festive peppermint. No one can eat just one! 
MASON JAR SHAKER STRAINER LID
You like to shake things up, right? This handy, stainless steel mason jar shaker / strainer lid is made to fit perfectly on your Camp Craft infuser kit. Shake, strain, pour, and store without the fuss and mess.
COMPENDIUM "MERRY CHRISTMAS" POP-OPEN CARDS
These timeless messages of inspiration from Compendium are designed to brighten the spirit and capture the heart. This imaginative 3-pack of 2.25" x 2.25" pop-open cards includes quotes to make the season bright and remind us of the magic of the holidays. 
HOLIDAY ORNAMENTS / DECORATIONS
We'll tuck fun mini ornaments and decorations in the box to add to the holiday spirit (Christmas gnome, mini tree decorations, small stocking, wooden sled, etc.). 
SUNSHINE PACKAGING
Your gift will be packaged in a reusable mailer box. Filled with shred and packed with care, we will include a handwritten card that will be the first thing seen when the box is opened. We will not include any pricing information with the gift. 
SHIPPING 
Boxes will be processed and shipped Monday - Friday via UPS Ground Service. We trust our friends in brown and know they will take special care with your package. Your gift will go on a unique journey that could involve trains, planes, and automobiles before a safe delivery to you as soon as possible. We'll send you tracking information as soon as your package is shipped so you'll know exactly when it will arrive.