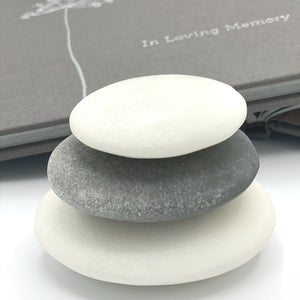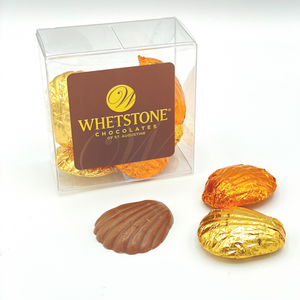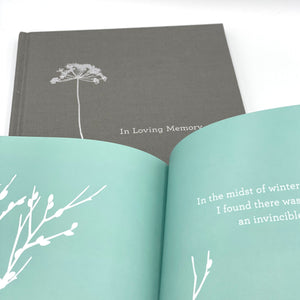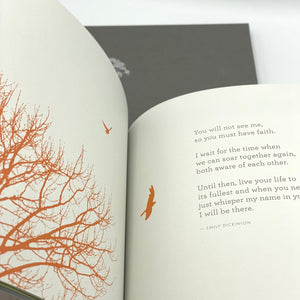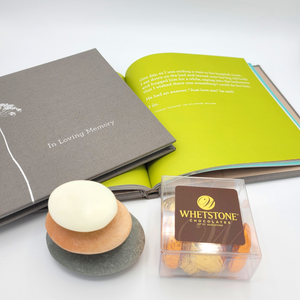 What is the best way to comfort someone who has lost a loved one? Often, we cannot find the words to express the feeling overflowing in our hearts. This thoughtful, beautiful gift set helps convey the important messages of support, love, peace, and compassion.
Compendium Book - In Loving Memory | Whetstone Chocolates |  Soothing Stones | Sharing Sunshine Gift Packaging 
WHAT'S INSIDE

BOOK - IN LOVING MEMORY | Compendium
This 80-page hardcover cloth book of quotations is a gift that brings care and compassion for today and hope and healing for tomorrow. Measures 7.75" x 7.75".

GOURMET CHOCOLATE SHELLS | Whetstone Chocolates
Sometimes chocolate can help soothe a soul. Hand-crafted from the finest ingredients and made in small batches for exceptional freshness, these 10 gourmet chocolate pieces are created in the rich flavors of Milk Chocolate Valencia Orange and Milk Chocolate Toffee Crunch. 

SOOTHING STONES 
Hands are drawn to these 3 satisfyingly smooth, chunky, and tactile natural stones. Stack them or twirl them in the palm for comfort. Boasting calming gray, cream, rose, and amber hues, these stones measure 1.5" - 3". Stone colors may vary from images shown.

HANDWRITTEN GIFT NOTE WITH YOUR MESSAGE
SUNSHINE PACKAGING
Your gift will be packaged in a reusable mailer box. Filled with shred and packed with care, we will include a handwritten card that will be the first thing seen when the box is opened. We will not include any pricing information with the gift. 
SHIPPING 
Boxes will be processed and shipped Monday - Friday via UPS Ground Service. We trust our friends in brown and know they will take special care with your package. Your gift will go on a unique journey that could involve trains, planes, and automobiles before a safe delivery to you as soon as possible. We'll send you tracking information as soon as your package is shipped so you'll know exactly when it will arrive.