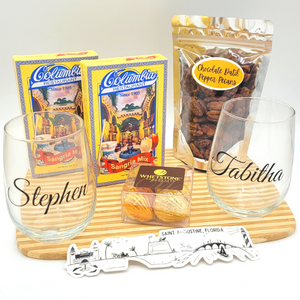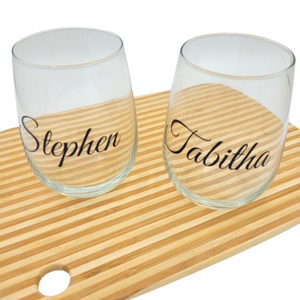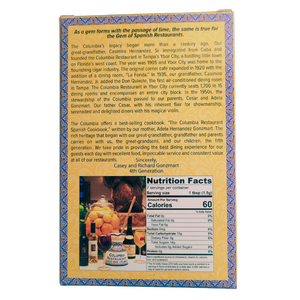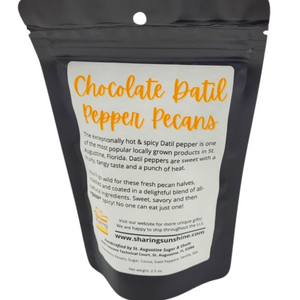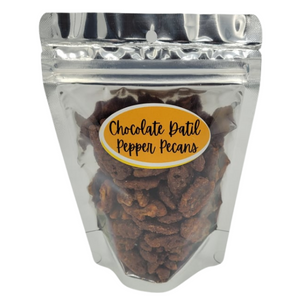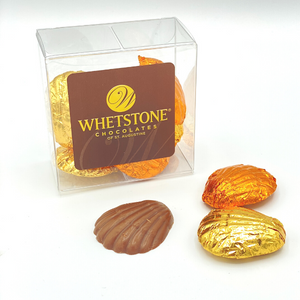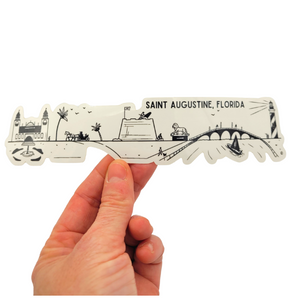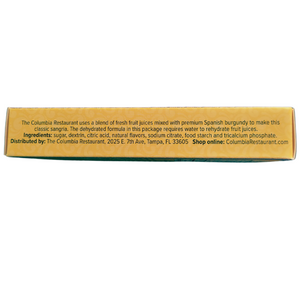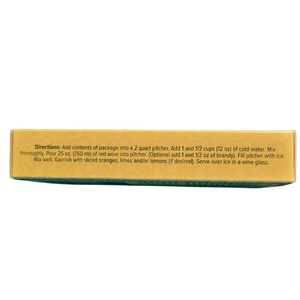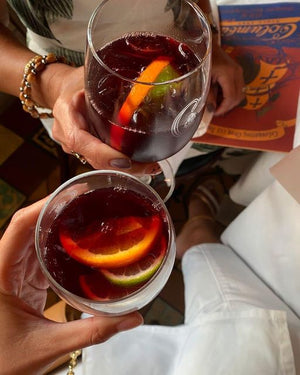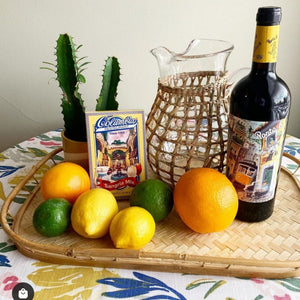 This personalized box is filled with all the fixings for a sangria party. Featuring iconic favorites of the oldest city in the nation, it's the perfect package of goodies for sangria lovers as well as residents and visitors of beautiful St. Augustine, Florida. 
Two Columbia Restaurant Sangria Mixes | Two Personalized Stemless Glasses | Chocolate Datil Pepper Pecans | St. Augustine Iconic Landmark Art Sticker | Sharing Sunshine Artisan Magnet | Sharing Sunshine Gift Packaging

WHAT'S INSIDE

COLUMBIA RESTAURANT SANGRIA MIX | Columbia Restaurant
Enjoy Spain's delightfully refreshing beverage with Columbia Restaurant's Sangria Mix. Make this much-loved St. Augustine favorite at home with two 4.2-ounce mix packets. Simply add water and a bottle of Cabernet Sauvignon red blend (or any other red Spanish wine).
PAIR OF PERSONALIZED STEMLESS GLASSES | Sharing Sunshine
Cheers! Enjoy favorite beverages in a pair of 17-ounce stemless glasses, personalized with a name or short saying. 20-charatcter limit. Leave a comment in the Notes section at check-out with the text you'd like added onto each wine glass. 
CHOCOLATE DATIL PEPPER PECANS | St. Augustine Sugar & Shells
Wait for it! This 4-ounce serving of fresh pecan halves, roasted and coated in a delightful blend of all-natural ingredients: datil peppers, cocoa, vanilla, salt, and sugar is mind blowing! No one can eat just one! Crunchy, sweet, spicy, and delicious. Yum! Handcrafted by St. Augustine Sugar & Shells. One myth about the origin of the datil pepper is that they arrived in St. Augustine, Florida from Minorca in the late 18th century. Yum! 
WHETSTONE CHOCOLATES GOURMET SHELLS | Whetstone Chocolates 
This 6-pack of gourmet chocolate shells is hand-crafted from the finest ingredients and made in small batches for exceptional freshness. Each scrumptious treat is individually wrapped in bright-colored foil to represent the St. Augustine, Florida seaside. Enjoy a combination of Whetstone Chocolates' flavors of Milk Chocolate Valencia Orange and Milk Chocolate Toffee Crunch.
ST. AUGUSTINE LANDMARK ART STICKER | Sharing Sunshine
This attractively designed 8" x 2" vinyl sticker / decal features iconic images and landmarks from both coastal and historic downtown St. Augustine areas. Stickers are a fun way to decorate any mirror, cell phone, window, laptop, envelope, or water bottle. 
SUNSHINE PACKAGING
Your gift will be packaged in our reusable 13" x 8" bright and adorable mailer box. Filled with shred and packed with care, we will include a handwritten card that will be the first thing seen when the box is opened. We will not include any pricing information with the gift.  
SHIPPING 
Boxes will be processed and shipped Monday - Friday via UPS Ground Service. We trust our friends in brown and know they will take special care with your package. Your gift will go on a unique journey that could involve trains, planes, and automobiles before a safe delivery to you as soon as possible. We'll send you tracking information as soon as your package is shipped so you'll know exactly when it will arrive.