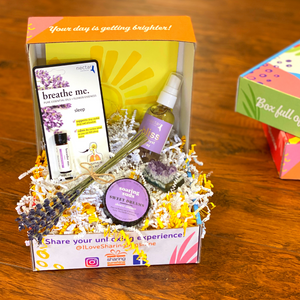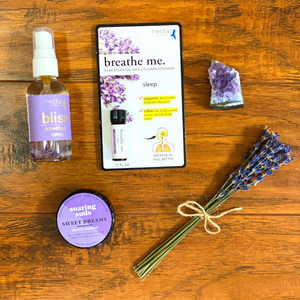 Everyone deserves moments of true bliss. Delight the senses with this thoughtfully curated spa box packed with an indulgent mix of items designed to relax and soothe the soul. Filled with a perfect combination of decadently scented and transformative products, this gift box is the perfect way to help develop rituals to rest and rejuvenate.

WHAT'S INSIDE

AMETHYST CLUSTER | Earth's Minerals
Amethyst is a stone of spiritual protection and purification, believed to cleanse one's energy field of negative influences and attachments and create a resonant shield of spiritual light around the body.
BLISS AMETHYST SPRAY | Nectar Essences  
Divine light and third eye sight. With notes of jasmine and tropical flowers, transform  the mind, body, and space with this vibrational spray. Night blooming jasmine, Ecuadorian palo santo, and floral ylang ylang are infused in an Amethyst gem elixir. Amethyst is a master stone and expands the crown chakra, helping to tap into oneness. Use as a room spray or a personal aura mist.
SWEET DREAMS SHOWER STEAMER | Soaring Suds      
Nighty Night! This calming, relaxing steamer blend scent is perfect for bedtime. Place this 2-ounce tablet in the shower, out of the direct line of water, for a soothing routine to help settle for bed. It might be little but this steamer packs a big punch, throwing tons of aroma for an amazing shower experience.
BREATHE ME - SLEEP ESSENTIAL OIL | Nectar Essences 
With a floral, woody, sweet scent, this 3.5 ml bottle of essential oil is a dreamy turndown service! Simply inhale for 30-seconds before bedtime and naptime..
MINI LAVENDER BOUQUET | RoseFlower 
This fragrant mini French lavender sprig bouquet contains ten 6" stems that are gathered and tied with a bit of twine. Lovely!
SUNSHINE PACKAGING
Your gift will be packaged in our reusable 8" x 8" bright and adorable mailer box. Filled with shred and packed with care, we will include a handwritten card that will be the first thing seen when the box is opened. We will not include any pricing information with the gift. 
SHIPPING 
Boxes will be processed and shipped Monday - Friday via UPS Ground Service. We trust our friends in brown and know they will take special care with your package. Your gift will go on a unique journey that could involve trains, planes, and automobiles before a safe delivery to you as soon as possible. The cost of shipping is included in the price of your gift – no extra surprises here. We will send you tracking information as soon as your package is shipped so you'll know exactly when it will arrive.