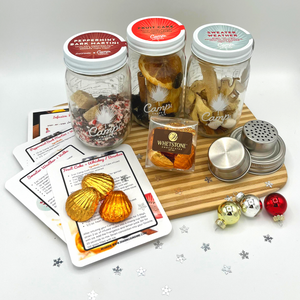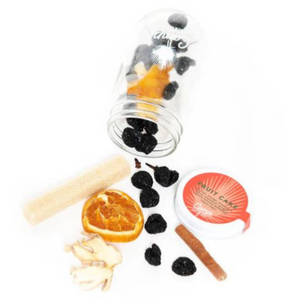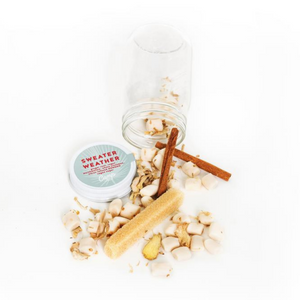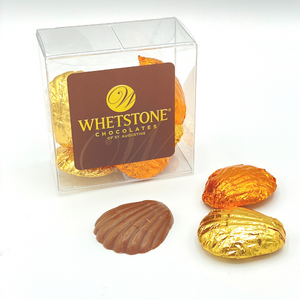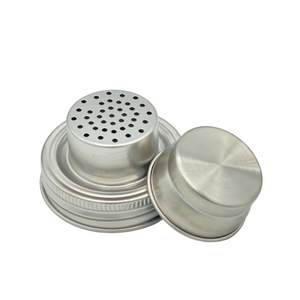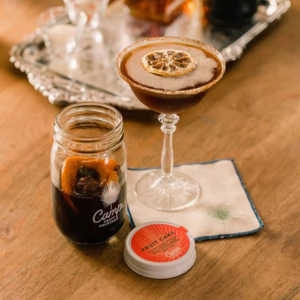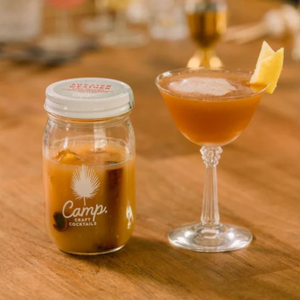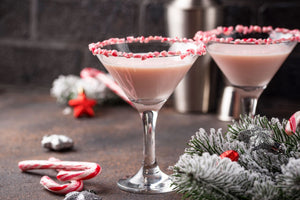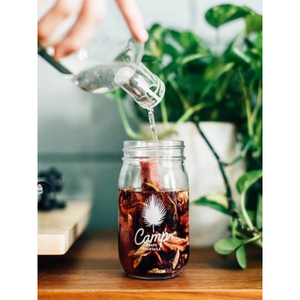 Embrace the holiday "spirit" with this 3 pack of cocktail infusion kits. You'll receive a trio of delicious, easy-to-make craft cocktail kits with holiday-themed flavors along with a shaker/strainer lid, gourmet chocolates, mini holiday decorations, and several cocktail recipes for inspiration.
Add your favorite alcohol and refrigerate for 3 days while each kit infuses. Sip as is or add a slash of juice, tea, and/or tonic. Unopened jars have a shelf life up to 2 years. Once infused, enjoy within 30 days. A perfect holiday gift for a friend, family member, co-worker, Secret Santa, neighbor, or as a treat for yourself. 
Camp Craft Cocktails Peppermint Bark Martini Infusion Kit | Camp Craft Cocktails Sweater Weather Infusion Kit | Camp Craft Cocktails Fruit Cake Infusion Kit | Stainless Steel Mason Jar Shaker/Strainer Lid | Recipe Cards | Mini Holiday Decorations | Handwritten Gift Note | Sharing Sunshine Gift Packaging
WHAT'S INCLUDED: 
(3) CAMP CRAFT COCKTAILS INFUSION KITS:

* PEPPERMINT BARK MARTINI: cacao nibs, peppermint, and vanilla & citrus infused non-GMO vegan cane sugar
Minty | Velvety | Smooth

* SWEATER WEATHER: vegan marshmallows, cinnamon stick, ginger, and citrus infused non-GMO vegan cane sugar
Complex | Warm | Bold

* FRUIT CAKE: cherries, orange, pineapple, clove, cinnamon, ginger, and vanilla & citrus infused non-GMO vegan cane sugar
Warm | Fruity | Complex 
(6) GOURMET CHOCOLATE SHELLS
This 6-pack of Whetstone Chocolates gourmet chocolate shells is hand-crafted from the finest ingredients and made in small batches for exceptional freshness. Each piece is individually wrapped in bright-colored foil. Enjoy the exceptional flavors of Milk Chocolate Valencia Orange and Milk Chocolate Toffee Crunch. ** During high heat index months, a pouch of delicious gourmet nuts may be swapped in for the chocolates.

(1) STAINLESS STEEL MASON JAR SHAKER / STRAINER LID

(6) INSPIRATIONAL COCKTAIL RECIPES AND "HOW TO INFUSE" GUIDE
(1) HANDWRITTEN GIFT NOTE TO THE RECIPIENT

MINI HOLIDAY DECORATIONS
Click here to add a PERSONLAIZED WINE GLASS to your cart for $9.
Click here to add a GIFT CERTIFICATE to your cart for $25 - $250.
Add GIFT WRAPPING for $5 at checkout for easy-peasy holiday shopping!
SUNSHINE PACKAGING
Your gift will be packaged in our reusable, bright, and colorful mailer box. Filled with shred and packed with care, we will include a handwritten card that will be the first thing seen when the box is opened. We will not include any pricing information with the gift. 
SHIPPING 
Boxes will be processed and shipped Monday - Friday via UPS Ground Service. We trust our friends in brown and know they will take special care with your package. Your gift will go on a unique journey that could involve trains, planes, and automobiles before a safe delivery to you as soon as possible. We'll send you tracking information as soon as your package is shipped so you'll know exactly when it will arrive.