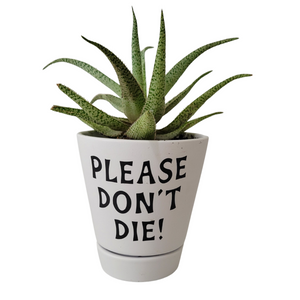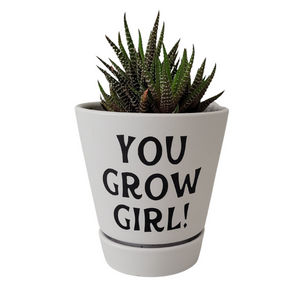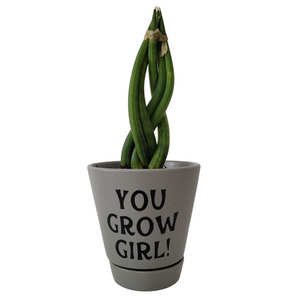 This sweet potted succulent and ceramic planter set is a perfect gift for a birthday, holiday, anniversary, wedding, retirement, promotion, graduation, new home owner, corporate event, best friend, new job, girl's night out, party favor, or as a treat for yourself.

The planter measures 4" wide x 4.30" tall and the drainage hole includes a built in saucer. Choose between a white or gray planter and the text you'd like added to the planter. We make these to order so you can choose one of the sayings displayed in the photos or create a short, custom saying of your own (max of 25 characters). If you have a special request for the vinyl color, please let us know. If not, we'll use matte black.

Succulents bring feel-good warmth to any indoor space. They're easy-care, drought resistant plants that store water and nutrients in their leaves. Succulents include a wide variety of genus and species and therefore come in a variety of colors, shapes, and textures. * Succulents are living things so each is unique and may vary in shape, size, color, or variety from the ones pictured. We select only healthy plants to ship.