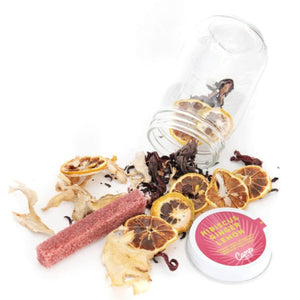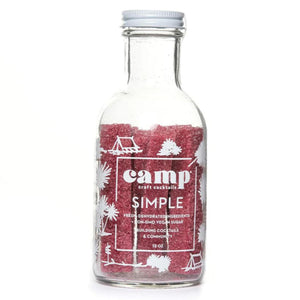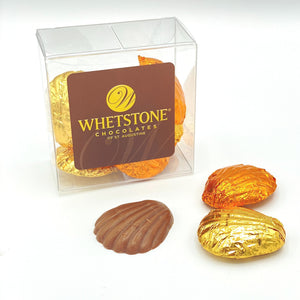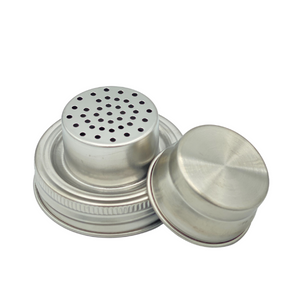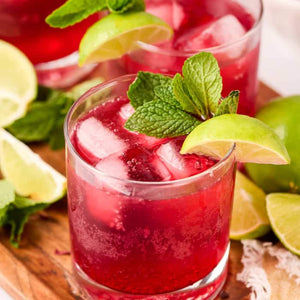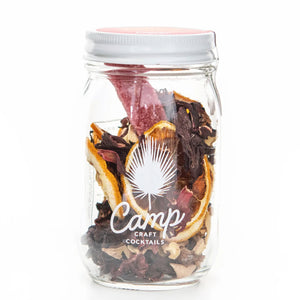 This hibiscus-themed holiday gift box is a perfect holiday present for a loved one, family member, friend, neighbor, coworker, etc. A cocktail infusion kit and simple sugar duo along with a lovely candle & matches set, gourmet chocolates, and mini holiday ornaments make this a well-rounded gift, packed with exceptional flavors and scents. 
Hibiscus Ginger Lemon Camp Craft Cocktails Infusion Kit | Camp Craft Cocktails Hibiscus Simple Sugar Kit | Stainless Steel Mason Jar Shaker Strainer Lid | Whetstone Chocolates  Gourmet Shells | Poured Goods Candle & Bottled Matches | Mini Holiday Ornaments | Sharing Sunshine Gift Packaging 
WHAT'S INSIDE
(1) HIBISCUS GINGER LEMON COCKTAIL INFUSION KIT | Camp Craft Cocktails
Sealed in a 16-ounce glass container and packed with hibiscus calyx, ginger root, lemon, and hibiscus tea infused non-GMO vegan sugar cane, this kit is both tasty and attractive. Add 12-ounces of alcohol, refrigerate for 3 days, and shake well before serving. Each infusion makes about 8 pours. Jars can be infused a second time for a total of 16 pours. This flavor Infuses well with most spirits but we like bourbon, vodka, tequila, and gin the best. Alcohol not included. For a zero-proof recipe, add hot water! Sip as is, mix with ginger beer, juice, or tonic water, add to your favorite mug of lemon tea, or create your own concoction. It's both tasty and attractive. Unopened jars have a shelf life of up to 1 year. Once infused, enjoy within 30-days. Includes inspirational cocktail recipes.
SPICY | FLORAL | TART
(1) HIBISCUS SIMPLE | Camp Craft Cocktails
This 12-ounce bottle of hibiscus tea infused non-GMO vegan sugar cane adds a sweet depth to every cup it meets. It's gluten free, vegan, and contains zero preservatives. Simply add hot water and allow sugar to dissolve. Sweetens cocktails, mocktails, coffee, tea, and more.
MASON JAR SHAKER STRAINER LID | Camp Craft Cocktails
You like to shake things up, right? This handy, stainless steel mason jar shaker / strainer lid is made to fit perfectly on your Camp Craft Cocktails infuser kit. Shake, strain, pour, and store without the fuss and mess.
MERRY & BRIGHT CANDLE & MATCHES SET | Poured Goods
Fill a home with notes of sugared orange and tropical fruits and florals. This 3-ounce soy candle in a black mini-tin has a cotton wick and is hand-poured. Includes a sweet 30ml corked bottle filled with several matches with brightly colored tips. A convenient striker pad is attached to the bottom of the bottle.
GOURMET CHOCOLATE SHELLS | Whetstone Chocolates
This 6-pack of gourmet chocolate shells is hand-crafted from the finest ingredients and made in small batches for exceptional freshness. Each scrumptious treat is individually wrapped in bright-colored foil. Enjoy a combination of Whetstone Chocolates' flavors of Milk Chocolate Valencia Orange and Milk Chocolate Toffee Crunch.  

MINI HOLIDAY ORNAMENTS
We'll tuck some festive ornaments in the box to add to the holiday spirit. 
HANDWRITTEN GIFT NOTE FOR RECIPIENT
Click here to add a PERSONALIZED WINE GLASS to your cart for $9.

Click here to add a GIFT CERTIFICATE to your cart for $25 - $250.
Add GIFT WRAPPING for $5 at checkout for easy-peasy holiday shopping!
SUNSHINE PACKAGING
Your gift will be packaged in a reusable mailer box. Filled with shred and packed with care, we will include a handwritten card that will be the first thing seen when the box is opened. We will not include any pricing information with the gift. 
SHIPPING 
Boxes will be processed and shipped Monday - Friday via UPS Ground Service. We trust our friends in brown and know they will take special care with your package. Your gift will go on a unique journey that could involve trains, planes, and automobiles before a safe delivery to you as soon as possible. We'll send you tracking information as soon as your package is shipped so you'll know exactly when it will arrive.